Description
Size XS

should fit young child from 4 years old

Size S

should fit teenager or petite adult

Size M

should fit average adult

Size L

should fit taller or broader adult
We recommend using these measurements as a guideline. Take the measurement from the tip of your nose to centre of your ear to find corresponding size.
Please note, mask fabric is elastic. If you think you may be between sizes, we recommend sizing down.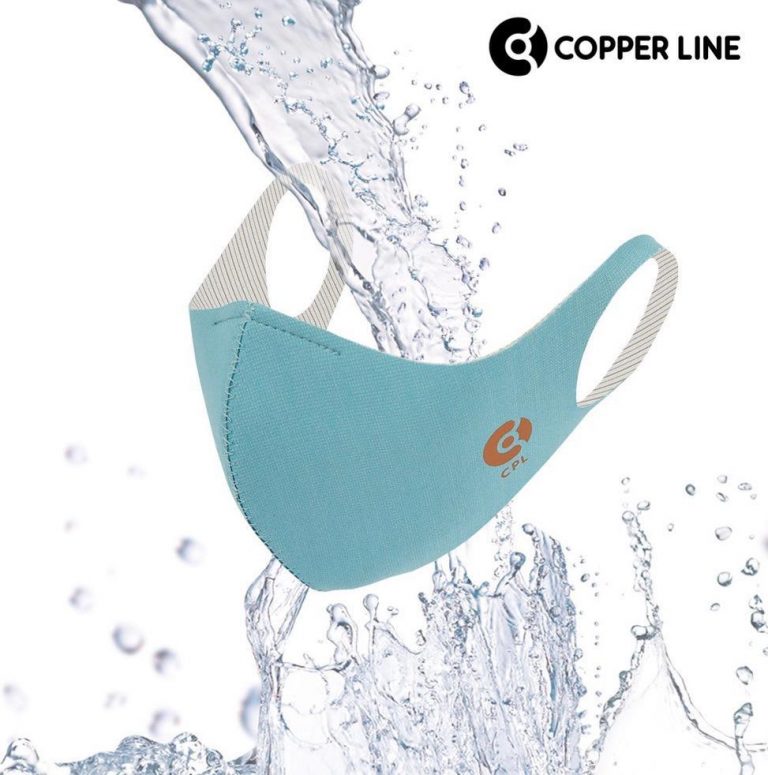 Gently hand washing with lukewarm water at or below 30°c.

Mild or neutral detergent is recommended. Gently press excess water out and hang to dry.

Avoid twisting which may damage the structure of copper yarn.
The mask itself was tested to kill bacteria and even deactivate COVID-19. 
Therefore, it is suggested to wash the mask twice a week, unless it is significantly dirty
How long can the mask be used for?
We have anti-bacterial test reports
on the original mask

before wash

, and
on the mask after

100 times washes.
The test results are both the same 99.9% which demonstrates that the copper yarn remains intact and does not disintegrate through washes. The intrinsic value and the integrity of the copper yarn remains good through the hand washing process.
KC (Korean Certification)
COPPER LINE antibacterial mask has received the KC (Korean Certification) mark. KC mark is a compulsory certification system designed to protect a Korean citizen's rights from products that may cause safety problem or have tendencies to harm a consumer's life or give damage to property and natural environment. KC mark is a national integrated certification mark such as CE of the EU, PS of Japan or CCC of China.
It can only be issued after obtaining the 23 specific certification system sectors, such as safety, health, environment and quality according to the characteristics of the product.
With the KC mark achieved for the COPPER LINE Mask, this demonstrates that the mask has fully satisfied and meet all expectations on all safety tests, including harmful heavy metal test as well as Formaldehyde, Chemicals and pH value tests.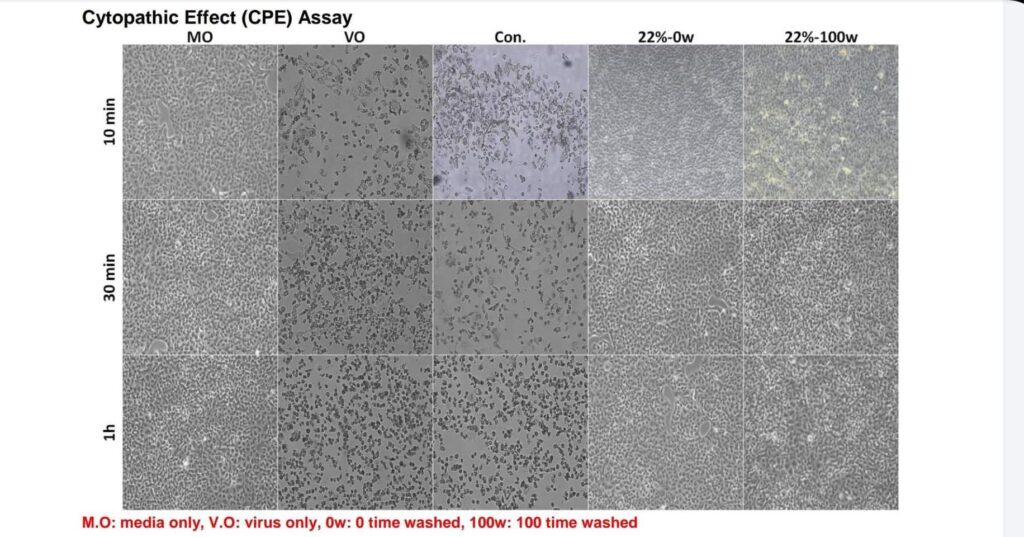 Antibacterial*, antimicrobial and deodorization function
These are the best benefits of our Copper Line mask. We have patented for this high-tech ionized copper yarn mask (PCT/KR2020/000554 & #10-2000730). Test reports show our mask fabric kills over 50% of bacteria in 10 minutes, over 99.5% in one hour and gets 80% deodorization effect in 30 minutes. Due to a high anti-bacterial efficacy, you can enjoy wearing our mask whole day without bad odour and headache.
Filtration & Breathability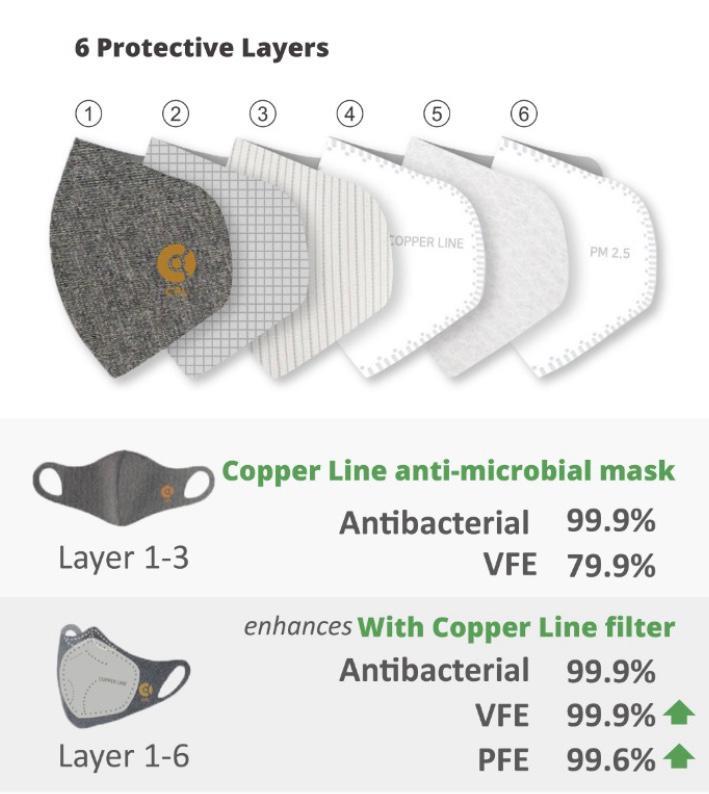 The mask fabric is Triple knitted (3 layers)** and it performs a high filtration efficiency. Dust filtration efficiency*** meet 92.6% and VFE upto 79.9%. Ergonomic mask design offers a snug fit to your face and comfortable breathing.

We have provided an extra Copper Line filter (3 layers)* for a serious air pollution, hospitals and specially a crowded, closed area in a recent COVID19 outbreak situation. If you put this optional filter inside the mask, filtration efficiency will be enhanced to VFE 99.9% and PFE 99.6%.
Note: filter is disposable and we don't recommend in a normal condition as it's not comfortable to breathe. Because the filter blocks the anti-bacterial copper fabric and can't kill the bacteria, we don't recommend wearing the optional filter for more than 3-4 hours at any given time.
** Triple knitted fabric has got 3 layers and Copper Line filter has got also 3 layers.
*** Dust filtration test method: Ashrae standard 52.1 — 0-10 microns particle sizes
**** VFE: Virus Filtration Efficiency — 0.1-5 microns particle sizes
***** PFE: Particle Filtration Efficiency — 0.1 microns particle size
Our mask is washable and reusable. Antibacterial test after 100 times washes result is still 99.9%. It is highly ecological, sustainable and environmentally friendly. For this we have been awarded Green Certification. The disposal of billions of mask per day is destructive to the environment.